Baton Twirling
Approx. 5 - 21 - 1 to 3 hour rehearsals weekly and approx. 8 performances/competitions in the late winter/early spring. Skill progression based on a leveled badge system begins in the Cadet team. Season run September through May with teams traveling to Wildwood, NJ for championships in May. Price varies by team. All ages and levels of experience are welcome.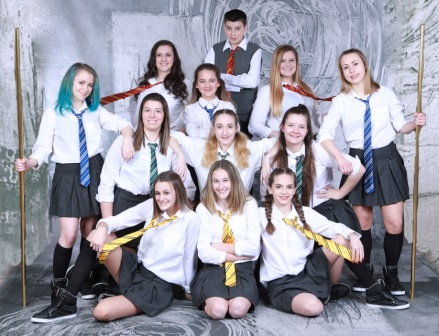 Hip Hop
Wolf's award-winning competitive hip hop program is led by Caitlin Felker. Placements are held in June, practices begin in July and the teams compete throughout the school year locally, in Pittsburgh, surrouning areas and at the national competition in Hershey. Our Wolf's Pups were the 2014 State Champs as well as 2015 National Champs. The Wolfpack, our senior team, won State Grand Champ and our Junior team, the Werewolves, were the 2015 Grand National Champions. Our competitive hip hop teams practice hard, but have fun competing at the highest levels. Ages 5 to 18 are welcome as well as all experience levels. Contact us for information on how to join this program.
Modern
Approx. ages 10 and up. Cutting edge dance in a contemporary style. Rehearses weekly for 2.5 hours September through May, competes in approx. 7 competitions per year and performs in both the Christmas and Spring recitals.
Color Guard
Approx. ages 6-18. Weekly practices in flag, rifle and sabre technique leading up to a full competitive routine. The team competes approx. 8 times per season culminating with a championship trip to Wildwood, NJ.